Welcome to OldSpurs.com! You have come to the internet's best and most comprehensive site about antique, vintage, and collectible spurs. We have tons of information, images, and history about antique spurs collected here because there's not a lot of information about these wonderful artifacts online and we wanted to create a resource to help people learn about them.
We Buy Antique, Vintage, and Collectible Spurs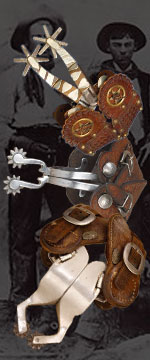 We will offer to buy single spurs, pairs, or entire collections depending on what you have and what you want to do. If your spurs are marked, we can authenticate them as original, and they are in fair to good condition, then there's a good chance that they are valuable and we will probably make you an offer for them. We make aggressive offers for rare or high-grade spurs and we do many deals every year, usually beating out offers from other dealers and collectors. We don't usually buy unmarked items from online contacts because it's too difficult to see all the details necessary without holding the spurs.
For the fastest help you can email pictures of your spurs to Dale@OldSpurs.com, once we've gotten some pictures we will respond and help however we can.
We Will Help Identify Your Spurs
Do you have spurs with markings you can't identify? Contact Us for help, often we can help you figure out who made the spurs or at least provide a range of dates for how old they are. Just knowing a couple of small facts like that can make a huge difference if you decide to sell it later. Which would you rather buy? "Old Spurs with + Marking" or "Early Kelly Gal-Leg Spurs". Knowing even a little bit about your items can increase your enjoyment and increase their value.
We Offer Free Appraisals of Old and Collectible Spurs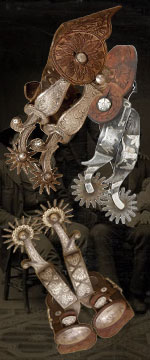 We offer appraisals as a complimentary service to anyone who needs help determining the value of a pair of spurs or a collection. Whether you've just inherited something and need to know what it's worth, you found something you're interested in and don't know what to pay, or you are just curious for information about your item, feel free to contact us with pictures and we can help you by providing an estimated value based on rarity, condition, and current market trends.
In order for us to provide any kind of accurate appraisal, we need you to send us pictures of your item. Telling us that it's just like the one pictured on the site or in mint condition isn't good enough and just causes confusion on both sides. For this reason we can't provide any pricing information until you can provide us with a picture of the actual item you have.